There are many possibilities to livestream. In the same breath, Twitch and YouTube are usually mentioned as the most popular places to go. However, these two platforms are very different. Of course, YouTube and Twitch livestreams are very similar, but Google's video portal also offers the possibility to upload videos that you have recorded and, if necessary, edited yourself.
Create and verify account
As for any other YouTube service you need an account for the livestream. It is best to take some time to find the perfect name for your channel. This name should be concise and understandable as well as reflect your planned content. With this account you can also upload and publish videos on YouTube. You do not need separate accounts for the video platform and the streaming platform. That means, if you already have a YouTube channel or at least a YouTube account, you can use it directly for streaming.
If this is not the case, here is a step-by-step guide including pictures:
Go to www.youtube.com and click on Login in the upper right corner.

If you have a Google account, you can now log in with your email and password in the form provided.

If you need to create one, go to "Create account" in the bottom left corner of the screen.

Fill in the input fields with your first and last name (not the selected channel name), your email address and a password of your choice.

You will then receive a security code by email which you must enter. In this way you confirm your account, but do not yet verify yourself as a real person. This is done via a code that is sent to your cell phone number. After entering the code you have to wait 24 hours before you can start your first stream. Go to youtube.com/verify for verification.

Now enter your phone number, your date of birth and your gender in the next input mask.

After that you have to sign the terms of use and privacy policy of Google.

Et voilà, your own YouTube account is created.
Consider these first 8 steps as the formal part, now we come to the essential part, so you can start streaming live on YouTube.
Go to your account profile picture in the upper right corner, which still shows the first letter of your first name.

Now go to "Create Channel" and confirm that you want to start your career as a Creator, as YouTube puts it so nicely at this point.

Now follows the step where you define your name for the channel. So, if you don't want to use your first and last name, select "With a custom name". After that, add your desired channel name in the input field provided.

Afterwards you can make the first settings, which you can also do later. But done is done!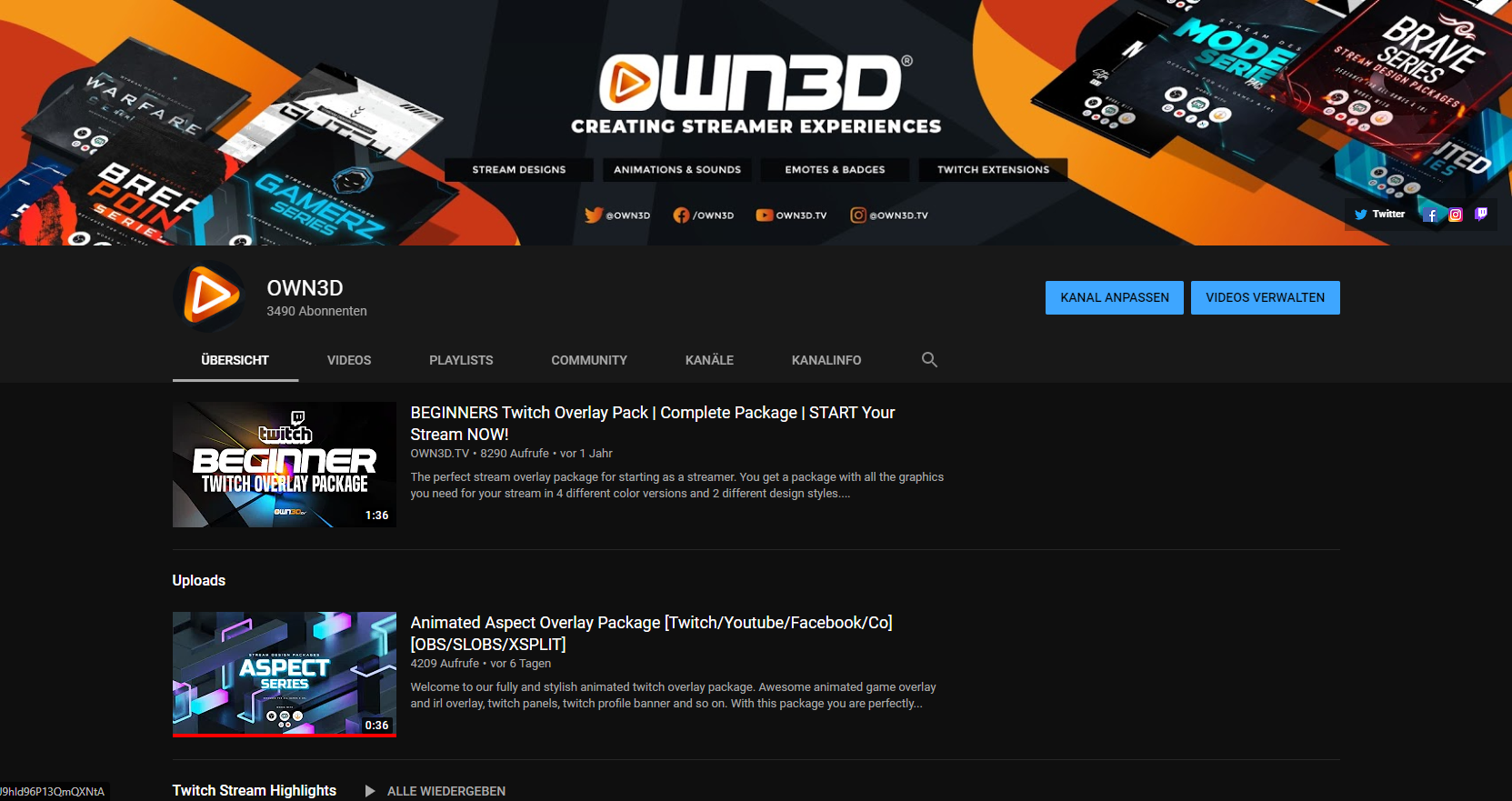 First steps to customize your channel
So, get ready to give your freshly baked YouTube channel its first individual moves. Most important: your profile picture. You decide whether it shows you or a logo you created for your channel. Choose this according to your taste, but a logo usually looks more professional. It is also very easy to coordinate with the rest of the design, like banners, the overlays in the streams and so on.

Below you can describe your channel. Get to the heart of what viewers can expect on your YouTube channel in as few sentences as possible. Which games, which formats, who you are or why you became a YouTube creator.
Then you can add your social media profiles - depending on which ones you have. This always makes sense, because you will find your viewers primarily on other social media platforms. The other way round, your viewers will come to them via the links. So, link your accounts wherever you can!

When inserting your social media profiles, it's also helpful to know that the first link is displayed as icon+text, the following ones only as icons.
First steps in YouTube Studio
Congratulations, your YouTube channel is created! At this point you should adjust one or two subtleties before you start your first stream. To do so, open the YouTube Studio by clicking on "Customize Channel" on your channel page. In contrast to the former Creator Studio, the YouTube Studio allows you to make all layout adjustments in one place. The first time you "enter" the YouTube Studio you will automatically end up on the "Customize" tab.
Here you can set a channel trailer and the sections on your channel page. But that is not important at this point. Go to the tab "Branding" and upload a banner image and a watermark. The watermark should be your logo, which you also have as your profile picture. On the "General Information" tab you can change your bio and your social media links if necessary.
All other menu items on the left side below your profile picture are not relevant for the time being. You can still go there once you have content on your channel. To create it, it's time to get down to business: Start your first stream!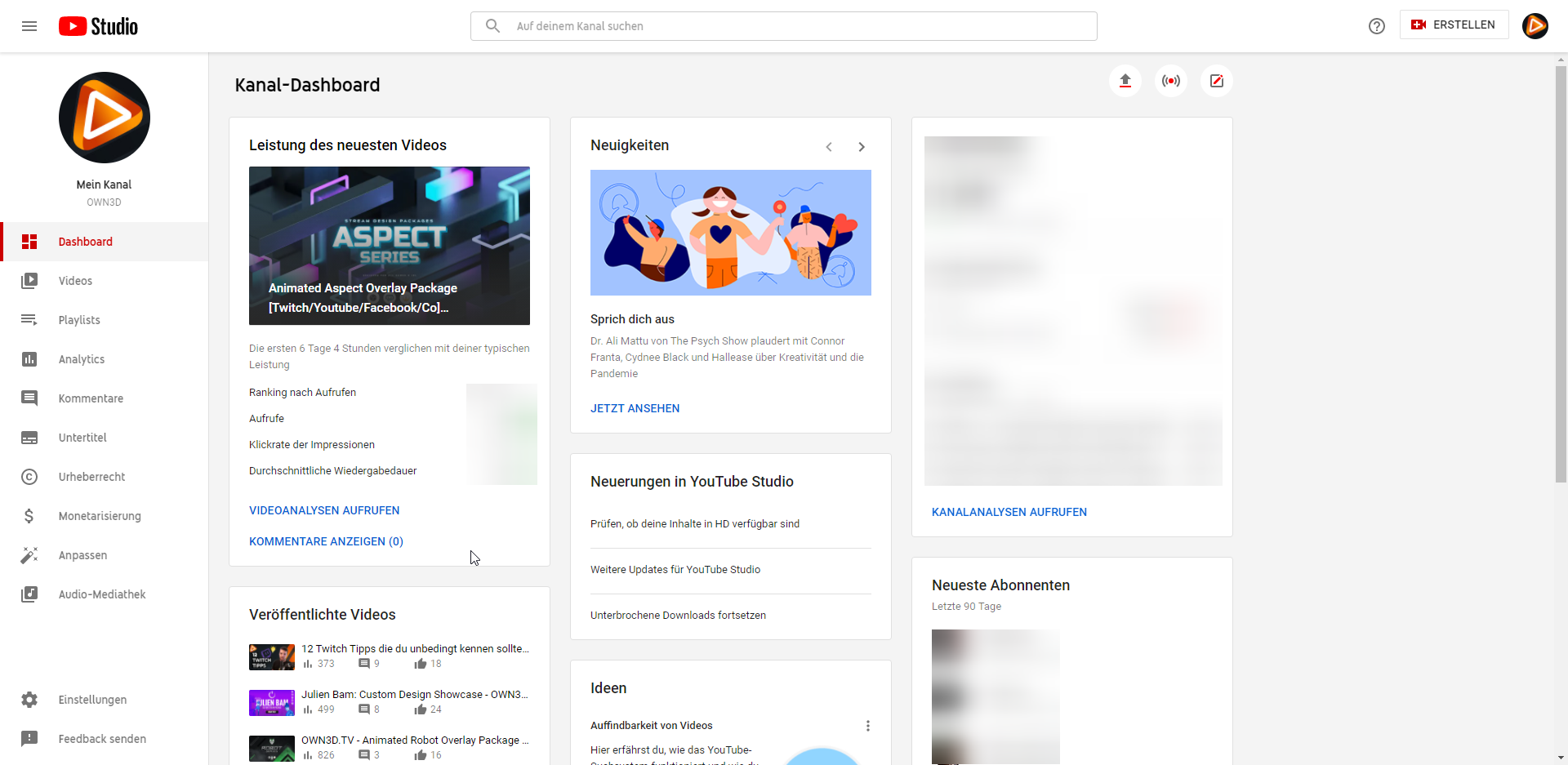 Start YouTube Livestream
There are three ways to stream to YouTube. First, you stream from your PC, second, you stream from your smartphone, or third, you stream from a (vlogging) camera with the appropriate feature. The different possibilities are explained to you again in a detailed step-by-step guide with screenshots, so nothing can go wrong with your first YouTube livestream.
YouTube livestream from PC / Computer / Mac
The basic equipment for decent streaming on YouTube should consist of at least a microphone, a camera, a monitor, an Internet line with an upload speed of at least 6 MB/s, and a PC with enough fuel. In detail, "Fuel" means that your computer has a processor with 6 or preferably 8 cores, which work on 12 or 16 threads. In addition, 8 GB of RAM are recommended as well as a graphics card that can display the games you want to play. For streaming on YouTube this is less important at first. All these values can of course also refer to a gaming notebook.
Now that your setup is ready, you can start streaming:
You can start a YouTube livestream by clicking on the camera button with the +, which you can find next to your profile picture in the upper right corner.

Click on it and select "Start Livestream" from the drop-down menu.

If you have not yet verified your account, you will be prompted to do so. Important: The livestream function is only available 24 hours after verification.

The YouTube Live Control Room makes it very easy for you to stream. You can start immediately by letting the YouTube software do everything in the background or you can use your own streaming software like OBS, XSplit or similar.

If you choose "Integrated Webcam", all you have to do is allow access to it and your microphone, give your stream a name and description and you can start streaming right away.

If you choose "Streaming software", you will need to take some more steps. However, this is more sustainable and professional for your YouTube career, as you have more options. For example, you can personalize your YouTube stream with overlays.

Now you enter a title and a description, choose the category of your stream, upload a thumbnail and click "Save".

So far so good. This is where your streaming software comes in. No matter which one you have chosen, open it. Afterwards you have to copy your streaming key, which is currently displayed in the YouTube Control Room by password points, and paste it into the broadcaster software.

Finally, you can start your stream on YouTube using this software.
Here, you will find a step-by-step guide with the example OBS. It contains all the information you need to customize the popular streaming software on YouTube. If you are using a different software, it is best to have a look at YouTube itself. There you will find many good tutorials for most broadcaster software.
YouTube livestream from your smartphone
Starting a YouTube livestream from a smartphone is even easier than from a PC. It's a great way to reach your subscribers on the go or in between. Considering the good quality of most smartphone cameras, even such a livestream usually looks professional.
But: the possibility to stream to YouTube via smartphone is subject to certain requirements. Only Content Creator with at least 1,000 subscribers, who have had no restrictions on live streaming from a PC in the last 90 days and who use at least Android 5.0 or iOS 8, may stream to YouTube from a smartphone. If you meet these conditions, here are the instructions for you on how to proceed.
Open the YouTube app on your smartphone.

Click on the camera icon at the top of the app, as you can see on the desktop version.

Now select "Start Livestream".

Then choose a title, write a short description of the stream and upload a thumbnail.

Now you only have to confirm with "Done" and you can start streaming directly.

If you want to schedule a livestream on your mobile device, go to "Schedule later" after selecting a title and set a date and time.
These instructions also apply to YouTube streaming via Android tablet or iPad. The same conditions we mentioned above apply.
Recording a YouTube Livestream
In order to cut a highlight video from your livestream later or to upload it edited for your subscribers to watch again on YouTube and other social media platforms, it is useful to record it.
But YouTube does that all by itself, without your intervention. After you have finished your livestream, YouTube will automatically upload it to your channel feed. Depending on which sections you have public there, it will be listed in "Uploads" and/or "Already broadcasted livestreams". From this point on, anyone can watch and rate the video.
After finishing your livestream, you can edit the recording directly in YouTube Studio.
Now we will explain how you can download a recording to be able to edit it:
In YouTube Studio go to "Videos" in the left vertical menu and then to the tab "Livestream". Here you can find all your recorded streams. They will remain there for an unlimited time. Unlike with Twitch, they are not subject to a limited storage time.

Select the livestream recording you want to download and go to the three points. Use the "Download" drop-down tab to download the recording to your PC.
Every YouTube livestream is automatically recorded as mentioned. And if you don't change any settings, this recording will be published on your channel immediately after your stream has ended. If you don't want that, check "Set recording as "Not listed" after the end of the stream" before starting your next stream.

Integrate YouTube livestream on Facebook
A direct integration of a YouTube livestream into Facebook is unfortunately not possible. However, it is possible to stream on YouTube and Facebook at the same time. For this you need a third-party tool such as restream.io. The tool offers you the possibility of a multistream. This means that you can stream on multiple platforms like YouTube and Facebook at the same time.
YouTube livestream tips
No matter on which platform you want to entertain your audience, there are always the same important points you should keep in mind. Starting with a good preparation – YouTube streaming is no exception. No matter what your goals are with your live streams to achieve them, the following tips are helpful - before, during and after streaming.
Preparation
A good preparation for each of your YouTube streams is essential. But this does not only include functional technology. Equally important is the collection of topics for your chat, so that it never gets boring and you keep it alive.
Also, from a certain number of simultaneous viewers it is important that moderators are present. And also, be aware of what you want to achieve with each stream; at the same time, answer the questions about how you want to achieve your set goals afterwards.
It's best to write everything down and place the sheet of paper next to you during the streaming so that you always have an overview.
But most important is your metadata: Always enter a promising title and a description before you go live. That way the audience will find you. A thumbnail screaming for excitement is just as helpful.
During the stream, it's good to keep referring to your social media channels - especially at the end as a call to action. So always check that the social media links on your YouTube channel work before starting your next stream.
Streaming schedule
Such a plan is mainly based on your daily routine, less on what time of day is the best time to stream. The important thing is that you stream on the same days at the same times every week so that your subscribers can get in the mood. If you stream indiscriminately whenever you feel like it, you will not be able to achieve a continuous build-up of your YouTube channel. So a fixed streaming schedule based on your free time is one of the most important tips we can give you.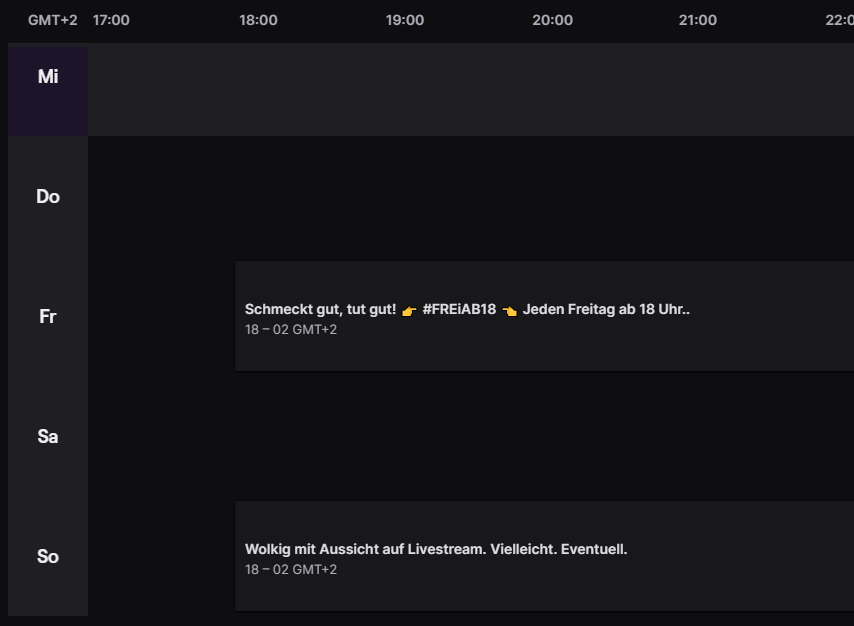 Use YouTube Premiere
If you want to do it like the pros, use YouTube Premiere. With it you announce a livestream or a video. This way, potential viewers and subscribers can already prepare for it.
Just as helpful are regular announcements of your YouTube livestreams on your social media profiles - even if you have a streaming plan. The more often you reach someone with your announcements, the more likely they are to stop by and become your next subscriber.
Optimize your setup
All beginnings are first of all clear. After all, you do not need more than a camera, a microphone, a PC and a monitor. But you can expand your setup over time. You can buy a green screen so that you can filter out your background in the facecam, or you can use better lighting so that you sit in front of the camera in the right light.
No matter how extensive your streaming setup is, before each stream you should check it carefully and test that everything works - including your internet connection. And since streamers talk a lot, a glass of water or something to drink in general is a good idea to make sure your throat is always wet.
Promote your YouTube channel
This is best handled like announcing your streams. Do not wait for viewers to find their way to you, but show them the way. Post pictures on Instagram, post tweets on Twitter and publish funny clips on TikTok.
Once potential viewers come to your channel, it's important that you make it attractive. Banners, profile pictures and overlays in the stream should not be missing to turn viewers into subscribers. In the streams it is also helpful to tell your viewers to turn on the bell so they are notified when you go online. As you can see, there are many small measures you can take to reach your target audience and increase your numbers.
Entertain your audience
This is the main task of a streamer! You entertain with your content, whether it is gaming, just chatting, shows or similar. Also entertain your chat with any topics you have prepared in advance. Call each new viewer by name, give a short review of what has already happened in the stream and mention what someone expects when they subscribe to you.
Check your stats
To see what your progress looks like, you should always check your statistics. Look at how many viewers you had, how many new subscribers you got this month and how long someone stays in your stream. All this tells you what you are doing well and what you should improve.
This also applies to the content. If a game or format does not work, you should throw it out and replace it. Also keep in mind that fun should be a big factor for you. If you want to continue playing a game even though it doesn't go down very well, go ahead and maybe add another game to keep your audience engaged.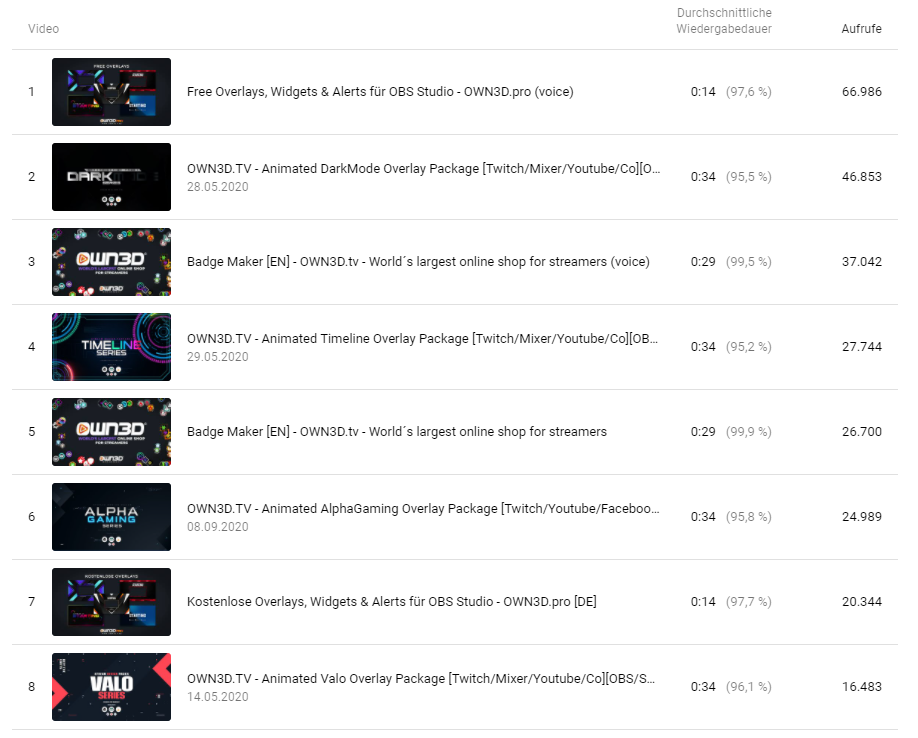 YouTube Livestream with OBS
OBS is one of the most widely used streaming softwares. The abbreviation stands for Open Broadcaster Software. You can use the program for free and have all the features to stream optimally to YouTube. You can download it from https://obsproject.com/de and then install it. OBS is available for Windows, macOS and Linux.
In order to know how OBS works and how to start a YouTube livestream with it, we have put together a clear guide for you.
First you have to set up your livestream as described in "YouTube livestream from PC / Computer / Mac". Then you open OBS.

First go to "Settings" in the lower right corner and then to "Stream". There you select "YouTube / YouTube Gaming" as the platform and insert your streaming key.

To make it as simple as possible, go to "Autoconfiguration Wizard" under "Tools" above. This will help you to use the right settings at the beginning.

Leave the settings as they are given by OBS. Just select the box "Estimate bitrate with bandwidth test" in the step "Streaming information". This will set the bitrate according to your internet connection.

This completes the auto-configuration wizard; the main settings are done.

Now go to the bottom left in OBS and select the "Predefined scene". Next to it you can add sources. One for your game and one for your facecam.

Click on the "+" and select "Game recording". It is important that the game is already running in the background.

Now you can add a "video recording device" by clicking on the "+". Under "Device" you can select your connected camera.

Now you only have to align both windows in OBS as you want them to be.

You can add overlays, additional scenes, etc. at a later time.

You have made all the necessary settings and just click on "Start Stream".
For absolutely detailed information about OBS, we have written the ultimate guide: https://www.own3d.tv/en/blog/tutorials/obs-tutorial. It is based on Twitch as an example, but the settings are the same for YouTube in most cases.
Frequently asked questions - YouTube Livestream
For the most common problems that can occur with a YouTube livestream, we have summarized the appropriate solutions for you.
Is a YouTube livestream combined with costs?
No. On YouTube you can stream and upload videos absolutely for free.
Why is my YouTube Livestream so quiet?
This may be due to the settings in your broadcaster software. It is best to amplify the audio control for your microphone.
Why is my YouTube livestream lagging?
This can have several reasons: Either your upload line is too low or disturbed, your CPU is overloaded or the settings in your broadcaster software are not ideal. On YouTube you can find many good tutorials that will help you in all these cases.
YouTube livestream without camera?
That is possible. But considering the large number of streamers, you should consider using a camera. YouTube livestreams in which you can see the streamer generally have a higher viewer influx.
Where can I find current YouTube livestreams?
Go to "Live" in the left vertical menu on the YouTube homepage. There you will be presented with various ongoing livestreams as suggestions.
Under the tab "Gaming" you will find current YouTube livestreams of video games.
How do you earn money with YouTube livestreams?
There are different ways to earn money with YouTube livestreams. The easiest way is to place ads. You can find more information here. Further possibilities are presented in our article "Earn money with Twitch".