1 What is StreamElements?
Streamlabs is well known to many streamers. It is an all-round solution that can simplify or even automate many daily tasks on your channel via your browser. However, while Streamlabs emerged from TwitchAlerts, a provider for stream alerts, and was expanded step by step, StreamElements has been designed as an all-round solution from the start. It is for example no longer necessary to install certain program parts or tools on your own computer. The easy-to-use overlay tool makes a separate setup of an overlay in OBS & co. completely unnecessary. Only a single browser source is needed.
2 Basic modules
The menu is located on the left side of the StreamElements page. It is divided into three large blocks: The basic modules (top), loyalty settings (viewing points, stream store and more) and several settings pages for the bot. We will go through these blocks one by one, starting with the basic modules.
The dashboard
The dashboard gives you a complete overview of your stream. Information about the different modules, incoming payments, followers and subscribers can be found here as well as basic settings and the option to switch individual modules off and on. You can for example add the StreamElements chatbot to your channel with just one click or edit the title and game. After you have logged in to StreamElements you will also find a useful checklist here, from which you can access and activate the most important modules.
Themes Gallery & My Overlays
In the Themes Gallery you will find a large collection of overlays for various purposes and styles. If you have chosen one, you can further edit it in "My Overlays". You can also create an empty overlay and add your own graphics. Furthermore, you will find features and widgets which you can directly add to your overlay. In this way, you only need to add a single browser resource to your OBS. This makes it easier to change the game you are playing: Simply put the overlay into the browser source in your streaming software and adjust the position of your camera if necessary. With the widgets StreamElements offers you don't have to add separate elements like Alerts, Top-Donation or Goals because everything is already set up in your overlay.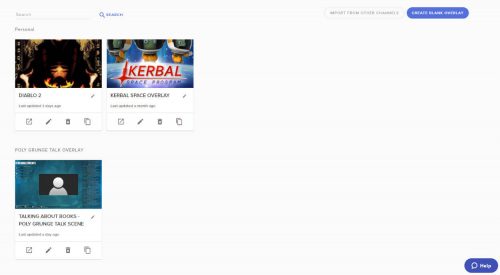 Chatstats
In the Chatstats you can find statistics about chatters and emojis on your channel. You will get detailed information about the total amount of messages in your chat, see the most active chatters and most used emotes and get information about the most popular hashtags and commands. This is especially useful information for larger channels, as you can exchange unused commands or emotes with better ones.
Activity Feed
In the Activity Feed you can see all activities and events on your stream and read about past events. It is also possible to filter them by type of event (follow, subscription or host). You can pop out the Activity Feed with a button in a separate window ("Pop out"), which allows you to move freely on StreamElements during a live session and still keep track of the activities on your stream.
Tipping
A very important page for a successful career as a streamer is your Tipping Page. Here your viewers can donate money and leave messages. Use the "tipping" link in the menu on the left to access the settings for your Tipping Page. There is a huge selection of settings and statistics to discover. Let's start with the tipping configuration page.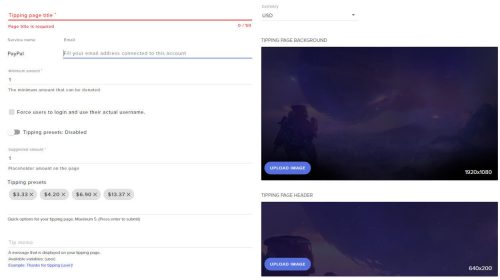 Tipping configuration: On this page you can configure the basic settings for your donation page. At the top you will find a box where you can enter a title and a drop-down menu for the currency you want to use. Below you can connect your PayPal account to which the donated money will be transferred. Additional options for a background image, text, suggested amounts and minimum amount give you many possibilities to customize your tipping page according to your wishes.
Tip moderation: Here you can moderate your donations. This means that they no longer automatically generate an alert, but first must be activated in your activity feed. On the Tip Moderation tab, you will find the settings for activating and setting up this feature. You can create a bad word list or select a predefined list.
Leaderboard: Here you can turn the leaderboard feature on and off. It shows the top 10 donors on your tipping page. Another option sets whether only the name or the donated amount should be displayed.
Tip list & cheer list: In the tip list or cheer list you can see all donations and cheers. They can also be filtered and sorted by date, username or donor name (for donations). Further donations can be added manually. The possibility to delete individual donations completes the package. The last two options are not available in the cheer list.
Top tippers & top cheerers: Here you can find a list of the top donors and top cheerers of your channel.
Songrequest
Using the song request feature, your viewers can add music to a playlist. All you have to do is to enter the command "!sr [YouTube-link] in the chat. The rest is done for you by the StreamElements chatbot. On the page you will find a player that plays the songs in the order they are added to the playlist. You can also add your own songs to the list, skip songs or remove inappropriate ones from the playlist.
Profile Page
On StreamingElements it is possible to create a separate profile in addition to your Twitch channel. You can set a title and a header picture and add links to your social media channels (Facebook, Twitter, Instagram, YouTube). The page also allows you to link to your personal Discord server and any existing web pages. The title will be preset if you have registered with your Twitch account, but can be changed at any time.

3 Loyality - Reward your viewers
Your viewers love you and regularly tune into your stream. It's only natural if you want to give them something back for it. For this purpose, there are the "Loyality" settings on the left side of the screen. Not only can you distribute points for viewers, followers and donors, you can also set up a stream store with perks, sound effects and access codes. In the following sections we want to take a closer look at these functions.
Loyality Settings
All basic settings for the loyalty tools of StreamElements can be made on this page. You can set the name of the currency in your stream (by default it is set to "points") and choose for which actions a viewer should receive how many points. By default, viewers get five points for every ten minutes they watch your stream, but you can adjust the values as you like. You should only make sure that your viewers don't feel disadvantaged if they just follow you but otherwise, they can't or don't want to contribute any interaction (donation, host) to your stream.
Leaderboard
On the leaderboard you can see how many points your viewers have earned so far. Not only do you know who your most loyal viewers are, but you can also edit their scores. For example, you can raffle points and give them to the winner or penalize a user who wanted to use a bot to gain points. At the top of the page you will find buttons for resetting the leaderboard and points as well as a link to your public leaderboard.
Stream Store
In the stream store you can generate different kinds of items, which your viewers can buy with the points they have earned. A user can for example spend points to play a certain sound in the stream or to purchase a so-called "perc". This can be pretty much anything that the streamer has to actively send to the viewer. For example, there may be an item that allows you to place your desired song at the top of the queue using the song request function (see above). The last category of items are access codes. A list of codes (e. g. game keys) is stored and the viewers can purchase them for points. As long as your stream store is empty, you'll also find a practical tutorial video of "RandomGirlSinging", where everything is explained to you in detail.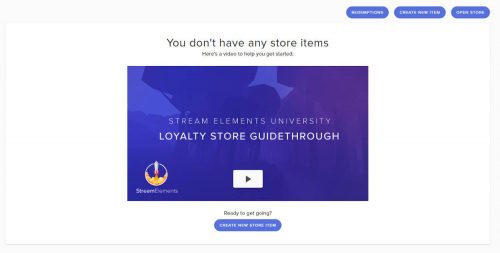 Contests
You play a competitive game like Counter Strike: Global Offensive or League of Legends and want to give your viewers an extra incentive to interact? Let them bet on you. With the contest function of StreamElements, this is easily possible via chat. On the settings page you can enter a title (e. g."Will I win the next game?") and add options that your viewers can access via the chat command "!bet [option]". There are also settings for the duration of the contest, the minimum and maximum bet and of course a short description.
Giveaways
With the giveaway module you can create giveaways, for which your viewers can buy tickets via a chat command. You can set the price of the ticket (in your stream currency) and also add a picture, title and description. Other settings are the free distribution of the first ticket and whether a confirmation about the purchase of a ticket should be displayed in the chat. On the right side of the screen you will see which giveaways you have already created and whether they are still active. A list of all past giveaways can be opened via a button in the upper right corner.
4 Bot - A powerful moderator
The StreamElements chatbot is an incredibly powerful tool to which the last five items in the left menu have been dedicated. The features of the chatbot are similar to the tools we've seen above, but go much deeper. The Bot can not only react to commands initiated with an exclamation mark, but also to various other events in the chat or on your stream. We will go through the individual menu items one by one and will explain them in detail.
Modules
With the modules it is possible to add many features and chat games. The purpose is to encourage your viewers to interact more with the chat. More interaction in the chat increases your reach and you will get new followers. Here are some interesting and exciting modules: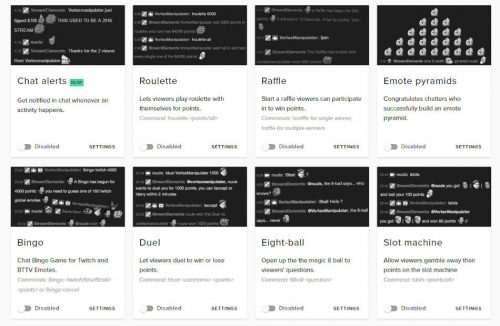 Duels: With the feature !duel your users can duel for points, after you have activated the points in the loyalty settings. The Duel feature is a great way to encourage your users to be more active in the chat, and when they have lost all their points, they will surely stay a little longer to earn new ones. A classic win-win situation.
Slot machine: With this module, your viewers can play on a one-armed bandit for their points. With the !slots command, they pull the lever and the bot displays a series of three emotes indicating whether they have won or not. This brings life to your chat and your viewers will have fun with it.
Twitter: With this module you can tell your bot to post tweets from Twitter to your chat. This means that your viewers not only get the latest information from your Twitter channel, but can talk about the tweets in chat. The result is a higher interaction and a better reach of your channel.
There are many more modules for your StreamElements chatbot, which you can check out at Bot -> Modules. They are mostly self-explanatory, so there is no need for a further presentation at this point. Let's take a closer look at the other functions provided by the StreamElements chatbot.
User Management
Here you can set who can be active on your channel as Bot Moderator or Regulator. You can also give Twitch users different permissions to help you manage your channel via the Streamelements bot. There are three different types of authorizations: Regulars, moderators and super moderators, with the last two being on the same list.
Chat Commands
In "Chat commands" you can create your own commands for your chatbot. It is for example possible to link a message with information about your Discord server with the command "!discord" or to make your streaming times available with the command "!schedule". You can also use variables to create commands specifically for moderators. You could for example use a "!timeout"command to instruct the chatbot to ban a user from the chat for a certain period of time after rude or inappropriate behavior. If you want to create a new command, click on "new command" in the upper right corner. In the following menu you can set the new command according to your needs. You can use the drop-down menu "command templates" to view and modify some templates for commands.
Spam Filters
Let us now talk about to the moderation function of the chatbot. In "spam filters" you will find a large selection of different settings. You can for example instruct your chatbot to take action against excessive use of uppercase letters or prevent people from spamming emotes. Furthermore, a bad word list and a whitelist for allowed links is available as well. To make the settings easier for you, you will find a few handy buttons at the top of the page to set your bot to the desired security level with just one click. It ranges from a deeply relaxed observer to a tough cop.
Timers
With the last menu point "timers" it is possible to post different automated messages in the chat. You can remind your viewers with which command they can log in to the queue to play with you. Just like Christian does it on the own3d.tv channel on Twitch. But there are many other applications too. You could, for example, automatically post a topic every 20 minutes and discuss it with your viewers. Or you can let the bot question the viewers about their opinion. The possibilities are almost unlimited.
The different settings for scheduled messages ensure that you can adjust them perfectly to your needs. It is for example possible to post a message only if a certain number of messages have been posted in the chat in the last five minutes before. So, it can't happen that your chatbot spams the entire chat while nobody is watching you.
5 Tips & tricks
In this article we have now looked at almost all the functions of StreamElements. Many of them are very self-explanatory since the tool is extremely intuitive and ahead of Streamlabs in some ways. Nevertheless, we advise you to take a close look at Streamlabs as well, as it offers other advantages. Of course, you have to decide for yourself which solution is the right one for you. Just have a look at our article on Streamlabs, maybe it will make the final choice easier for you. Of course, there is no reason not to use both tools in combination and to pick out only the functions that suit you personally.
In any case you should also have a look at our big Twitch-Guide, where you will find more useful tips and tricks for streaming. If you are using a console for streaming, we also recommend that you read our guide on console streaming or the article on capture hardware. Until then, we wish you good luck with your stream and hope you enjoyed this article.