But before these words discourage you, let me tell you one thing: Trust our guide, and everything else is just a matter of will and time. We are committed to providing extensive support for all streamers, and we will not leave anyone behind – including you!
In the following we will tell you what you need for streaming, which requirements should be met, and finally you will learn how to stream on twitch. Basically, this streaming guide will answer all your questions so that you can get started on Twitch and become a shark, pardon me, streamer yourself.
1 Preparing to stream on Twitch
Theoretically you could just visit Twitch, create an account and start streaming. However, it's very likely that you won't reach many viewers with this approach. With more than 7 million channels on Twitch, you have to come up with something special to stand out. But don't panic, we're here to tell you how it works.
The first step is good preparation. Before you start working on hardware, broadcasting software, and the like, it is important to gather some essential information.
1.1 Read the guidelines
Before taking the first step on Twitch, you should definitely read the community guidelines of the purple streaming platform. It's very important to know what you are allowed to do and what you are not.
For example, hate speech, racism, discrimination against viewers or the recording of unlicensed music is prohibited. There is also a certain dress code to follow, spam to regulate and some other important points.
Here you will find the guidelines: https://www.twitch.tv/p/en/legal/community-guidelines/
1.2 Create an account
Now that you're up to date on the community guidelines, we're ready to get started. The first step is to register on Twitch. Similar to other platforms, it's all about creating an account with an email address and a password.
To do this, it's best to use your computer and go to Twitch.tv. At the top right you will find the button "Register". Afterwards, a form will open which you have to fill out completely.
You start with the username, which is the first hurdle you have to take on the way to streaming.
The username is the one that will later appear on your channel page. It is the name your followers will identify themselves by and it creates a recognition value; just like your design, but more about that later. When choosing a username, make sure that it is easy to read, suits you, is not a random string of alphanumeric characters, and, ideally, has a certain ring to it. Furthermore, it's a good idea to check whether the name is available on the social platforms and make sure it is available right away to avoid problems later on.
The good news:
If you ever want to change your name, you can do so in the Twitch settings. Note that this is only possible every 60 days. What you can change at any time is the case sensitivity of your chosen username.
After you have added an email address, your date of birth and a password to the form, click on "Register". You will then have to confirm your email address by looking for a Twitch email in your inbox and entering the code contained in the Twitch.tv form.
To protect your account from unauthorized access, you should set up two-factor authentication in the "Security and Privacy" tab of your settings. Every time you log in, no matter what device you are using, you will first receive a code sent to your mobile phone or Authy (mobile app). Only with this code you can log in after entering your email address and password.
Et voila, your Twitch account has seen the light of day. Now you can start designing and setting up your Twitch profile.
1.3 Create a Twitch profile
To make one or the other important setting in your new account, go to the right to the still unfilled profile picture and then to "Settings".
Here you first upload a profile picture and a banner. If you don't own one or both yet, you will find a variety of customizable banners and profile pictures in our shop: https://www.own3d.tv/shop/twitch-profile-banner-picture/
You decide whether to upload a profile picture of yourself or a logo that suits you. It is also possible to create an avatar that shows you for example in manga style. With our Avatar Maker you can create your personal avatar in a few minutes.
Important note:
All design elements (banner, logo, overlays, alerts etc.) should be graphically coordinated. This way, you ensure a consistent appearance of your channel, which shows professionalism and attracts potential followers. With our support, implementing this completely hassle-free. Should you still have difficulties integrating our design elements, our support is available for you around the clock.
After you have added a banner and a profile picture, you can write a few words about yourself and your person in the "Biography" section, which you can find under your username below the banner upload.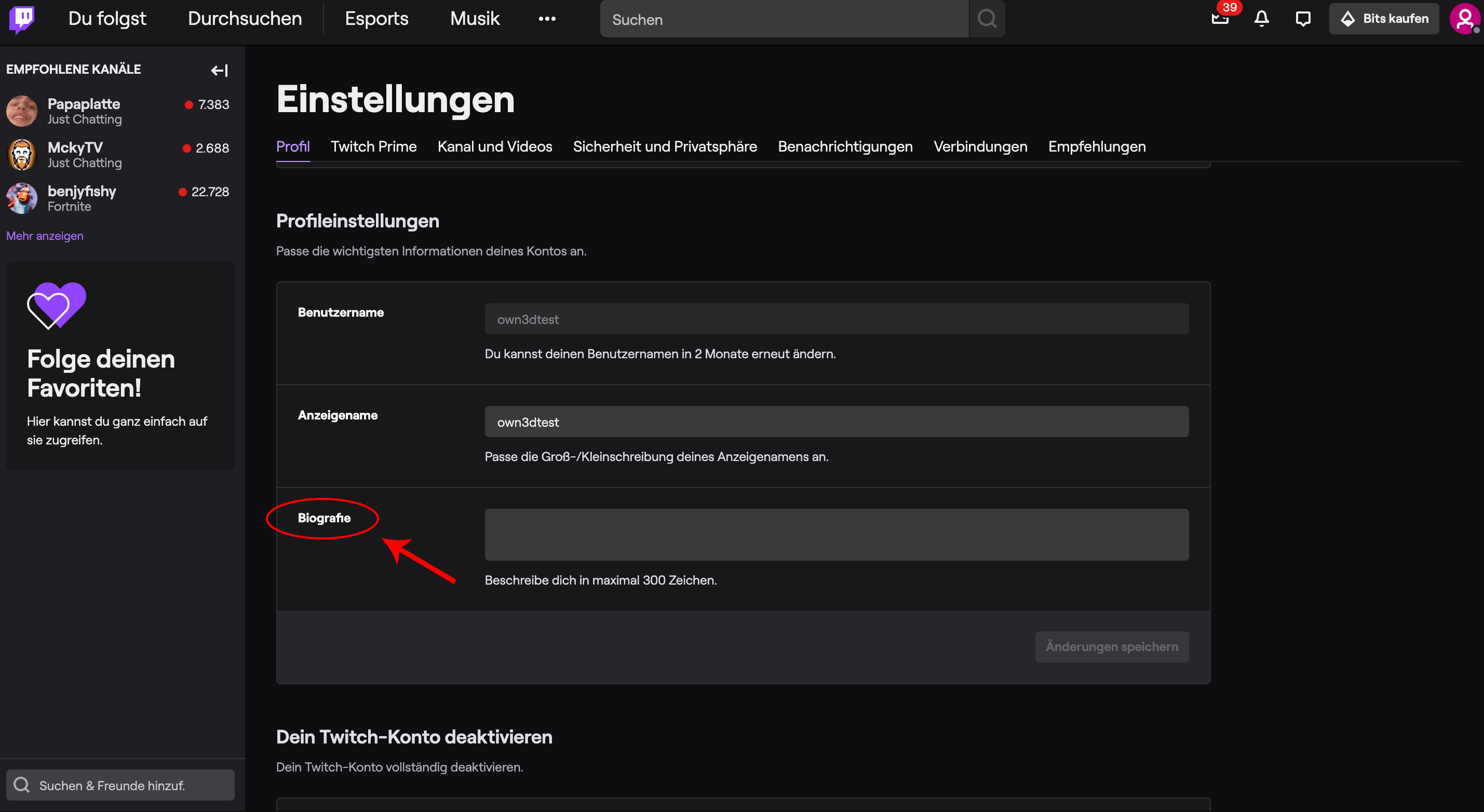 Here you don't have to sound overly creative, eccentric or compulsively funny. For the biography, it is important that the viewer experiences authenticity and gets some initial information about what to expect on your Twitch Channel. So write briefly and concisely who you are and what kind of content you provide. You can go into detail in the panels later on.
To avoid complications, arguments, vulgar language and other unwanted situations, it is advisable to set up chat rules from the beginning. Additionally, you have the possibility to use an AutoMod to remove links and certain words directly from the chat and to time-out the person who posted them for a certain time.
1.4 The Stream Key
When you have done everything necessary under the 'Profile' tab, you should familiarize yourself with your stream key. You will need this key to stream on Twitch and to integrate external software.
To get your stream key you have to click on the section "Channel and Videos". The first thing you will see is the title "Primary Stream Key", followed by an input field with several dots, just like a password field.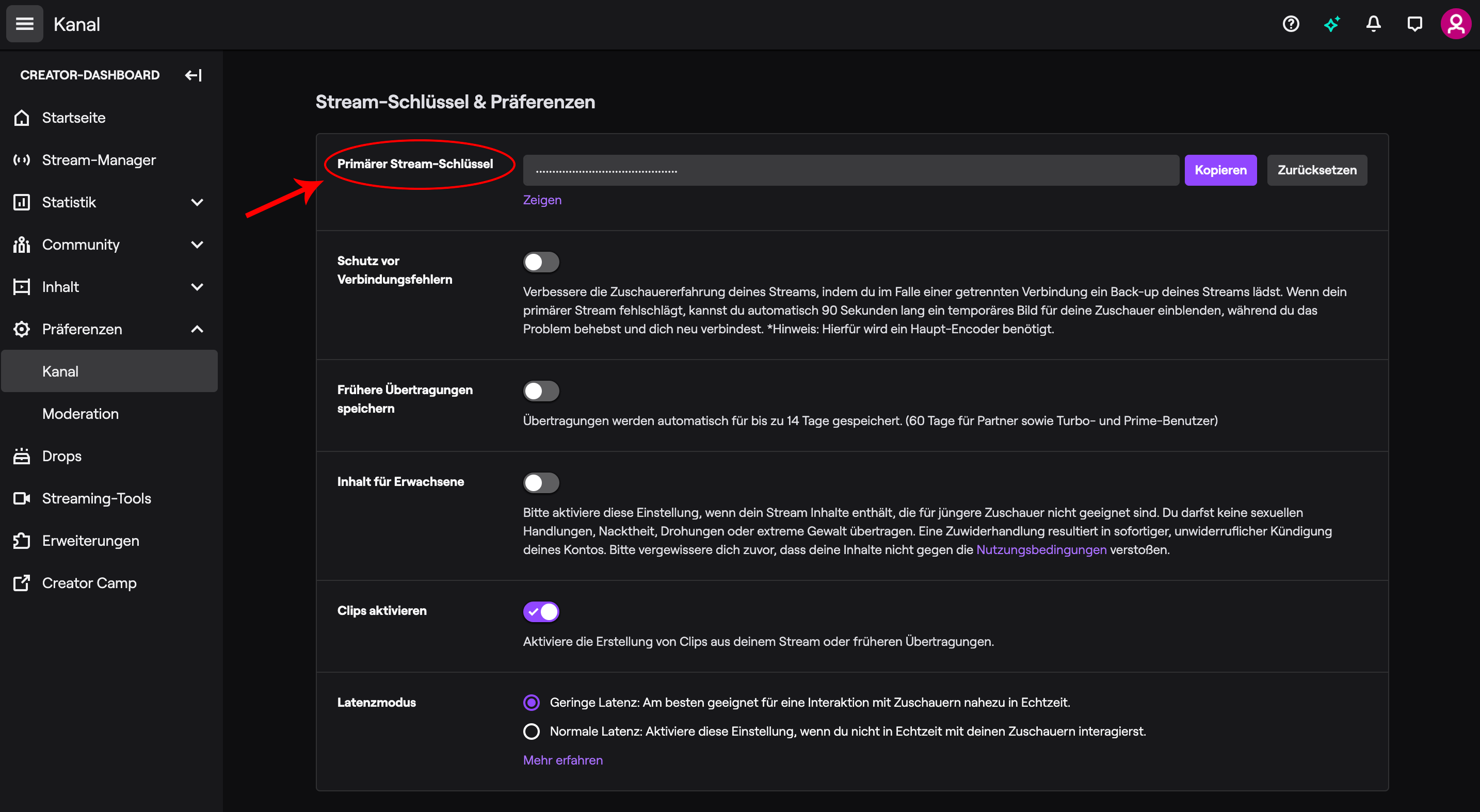 The fact that the stream key is made unrecognizable at first glance is for a good reason: it is just as valuable as the password itself, which gives you access to your Twitch account. Whoever has this key can stream via your channel.
So never show it in a stream or anywhere else. The only person who needs the stream key is you. It serves as access for external streaming software (broadcaster software), like OBS or Xsplit; we will come to these later as well.
The basic settings are done, so now you can get down to business.
1.5 How to stream on Twitch - Video
Don't want to read texts that are endlessly long? No problem! Watch the following video and start on Twitch! In this video you will learn how to set up your own stream on Twitch and everything you need to know to get started on Twitch:
2 Choose your hardware
To get started with streaming, you first have to put together the necessary hardware or, if it is already available, check if it is sufficient for your purposes.
First of all, it is important to know over which medium you want to stream. It makes a difference whether you want to stream a game from your computer, console or smartphone.
2.1 Computer, Console & Smartphone
There are several configurations of how you can arrange your setup for streaming to Twitch. While game consoles like Playstation or Xbox are equipped with everything necessary to guarantee a smooth stream, it is not that easy with a PC, because every PC contains different hardware components.
Requirements for streaming on PC
Just like with every video game you purchase having some requirements when it comes to hardware, streaming is exactly the same. We offer you a small rundown what key components you have to look out for and what minimum requirements you should meet:
CPU. When it comes to CPU you should go for at least an Intel i5 or an AMD Ryzen 5. No matter which brand you go for, a quad-core should be the minimum. 6 cores and up are ideal, as your CPU is responsible for both running the game and encoding. If your CPU is not powerful enough, your stream is likely to suffer from stutters.
GPU: The main concern when choosing your GPU is deciding which games you want to play on your machine. Also, your RAM should at least be 4GB no matter what. If your CPU is not the strongest, you should consider investing in a strong GPU, as the GPU can also take care of the encoding process and therefore ease the pressure on the CPU. Having a weak GPU can lead to frame drops, lag and in the worst case even complete freezes. Recommended models are: Nvidia GTX 1650 Super(AMD-Pendant: Radeon RX 5600) or RTX 2600 Super (AMD-Pendant: RX 5700), each rocking 8GB.
Memory (RAM): A lack of memory slows down almost all processes on your machine. We suggest going for at least 8GB memory, while 16+ is recommended – your RAM got plenty of work to do after all.
On top of that you should make sure that all your components are properly cooled. If you are no expert when it comes to building computers, you can buy a pre built PC. If you prefer to build your own machine, check out Corsair or Caseking.
2.2 You need a strong Connection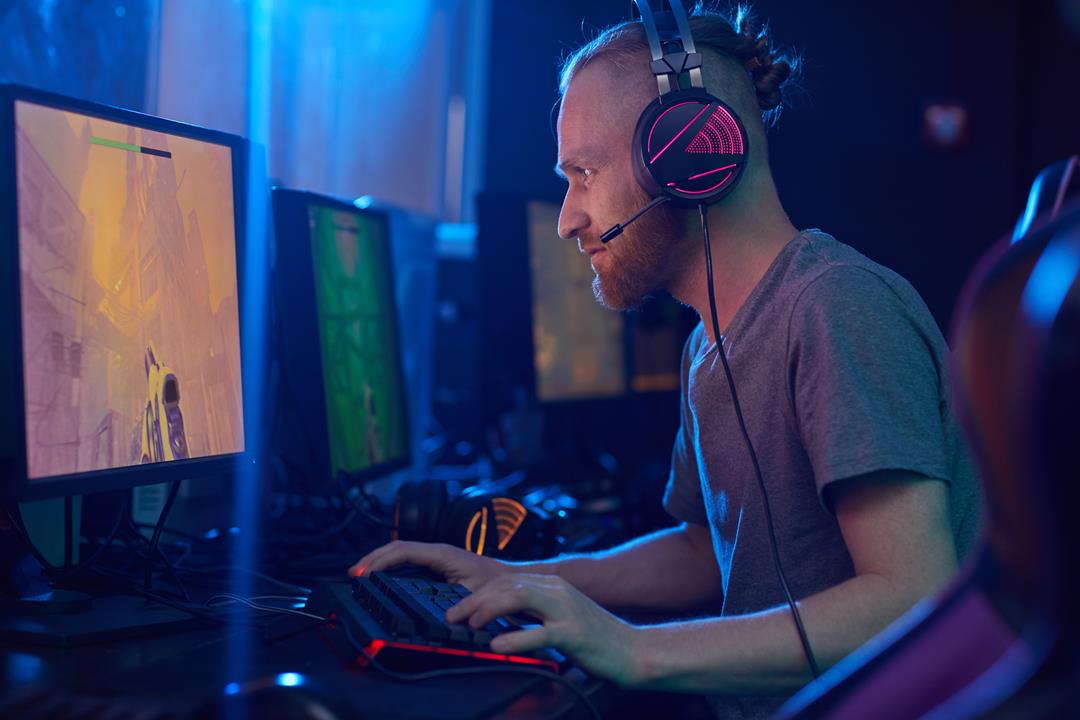 All your powerful hardware can become irrelevant if your internet is lacking in speed. At the end of the day it is not just about your computer's performance, but also your connection. Our first big hint is not to use a wireless internet connection, but a cable connection through LAN. That way your connection will be more stable and have little to no packet loss or loss of frames.
The frame rate suggests how many images are being created in a certain time frame and, as a streamer, are being broadcast. That's why you should ensure a high frame rate, to make sure your Stream is nice to view and free of lag. Ideally, you are looking at around 60 frames per second (fps).
Furthermore, images should have a high resolution. As you can only stream up to 720p resolution until reaching Partner/Affiliate status, an average internet connection should do the trick in the beginning. Once reaching this, you should make sure to be able to stream at 60fps on a 1080p resolution. Everything on top is simply "nice to have".
To achieve all this while also playing an online game at the same time, your upload speed is crucial. You want to make sure to upload your stream without any interruption, which will not be possible on a 16 mbit connection – 50 mbit is the minimum.
To quickly check back with your net provider we have a small cheat-sheet giving you a good idea, which numbers you are looking for:
| | | |
| --- | --- | --- |
| Resolution / FPS | Bitrate | Upload |
| 720 p / 60fps | 5000 kbps | 3000 kbps |
| 1080 p / 60 fps | 6000 kbps | 4500 kbps |
2.3 Microphone & Camera
Every professional setup is equipped with a microphone and a camera. Seeing and hearing are the essential components of streaming. As a result, you should make sure that these peripherals are of a certain quality. But that doesn't mean you have to put a lot of money on the table. You can find a starter kit for under 100 Euros.
You can find the best components in our hardware guides:
2.4 Other accessories
If your gaming hardware, microphone and camera are ready to go, you should also take care of other components that can give you an advantage and make your twitch streaming look even more professional.
Lights
Every room where gaming takes place looks different. The daylight falls in differently, one person prefers it darker, the other brighter, or one is dependent on day and night. To avoid this, you should use soft boxes. These illuminate the location of the action and let you shine in the light you want your audience to see you in.
In order to get an even spread of light, use at least two of these boxes: one on the left and one on the right behind your desk, facing you. This will help you to determine the time of day, your preference for dark or bright rooms and also the constellation of windows. This way you offer the same image in every stream in the Facecam. This is professionalism at its best.
Greenscreen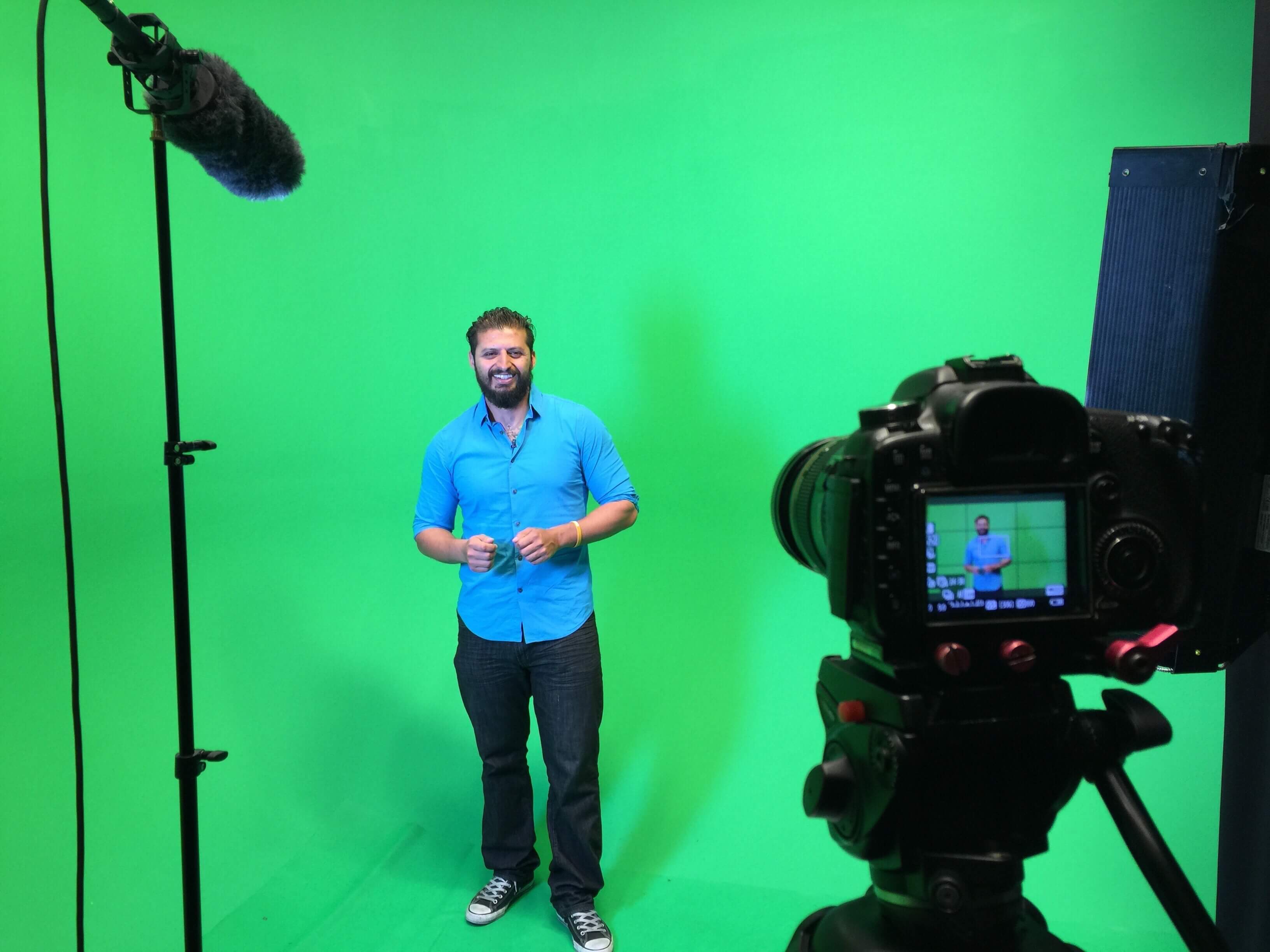 The green screen is the magic trick of every streamer. If you don't want the background of your room or just don't want a square webcam box in the picture, just use the famous green background.
Originated in Hollywood, it is still the basic equipment of a professional streamer today. And unlike other components of streaming on Twitch, a green screen is one of the cheaper purchases, but with great added value. At the end of the day it will bring you more viewers and followers.
The technical implementation is also done quickly. You can find instructions and some product suggestions in our Greenscreen guide.
Stream Deck
The Streamer's best friend is the dog. Nonsense, it is the stream deck. Elgato offers it in three different sizes, so there's something for everyone.
A stream deck is a device that fits on your table next to the monitors and your other streaming setup. Equipped with buttons that make certain actions in the stream easier, it generally makes life on Twitch a lot more comfortable.
For example, you can change overlays, fade in and out, or have something written to your stream, such as links to your social media profiles. Each button is customizable, both functionally and visually. The latter is possible because the buttons have small digital displays. This way, you can use the included software to customize the icon that suits you best.
A little note from us:
For a start, you can also use your smartphone as a stream deck; Elgato offers an ideal solution for this. In general, even the smallest version with 6 buttons is quite expensive.
3 Choose your broadcasting software
Hardware and accessories are ready, now we're getting to work on the software that will allow you to broadcast your screen content live over the Internet and put your gameplay on Twitch in the best possible light.
As in almost all other areas of life, there are many different solutions you can use for broadcast software. To give you an overview in the jungle of broadcaster software, we have gathered the 4 best solutions for you. Although Twitch also offers software by default, it has not really caught on so far. For this reason, it makes sense to start with an appropriate software right from the start. On the one hand, you will save a lot of stress and on the other hand, you will not have to change the software at a later date.
3.1 OBS-Studio
The Open Broadcaster Software (OBS) is a classic among its kind. It was already released in 2012 and has since established itself as the number 1 provider. As free software, it is accessible to anyone using Windows, macOS or Linux and is also free of charge.
The operation of the software is easy to use, even for non-experts, and if questions or ambiguities arise, YouTube is full of tutorials that provide you with all the answers. We also have a comprehensive OBS guide, which you can find here:
https://www.own3d.tv/obs-tutorial-for-twitch-youtube/
In addition to easily streaming to Twitch, YouTube and other platforms, OBS also offers you the possibility to make simple recordings. For example, if you want to create a simple YouTube video instead of a stream.
With numerous settings options, you can customize the Open Broadcaster software to fit your needs and hardware. You can also create different scenes that allow you to include overlays, among other things.
3.2 Streamlabs OBS
OBS-Studio is only outdone by the cooperation with Logitech. From the house well-known among gamers comes Streamlabs, which was specially developed to support streamers. Streaming is one thing, feeding the community with everything they need and taking care of them is another. Streamlabs OBS combines both in an efficient and simple way.
You can also personalize your twitch channel by managing your twitch panels through Streamlabs. The Streamlabs OBS portfolio also includes features like the Cloudbot, numerous widgets, setting your alerts and organizing your donations.
In short: You get everything from a single source, always have an overview and the most important functions are made available to you free of charge.
3.3 vMix
Here we come to a software that only works on Windows, but takes full advantage of this system. Based on Direct3D, vMix automatically gets its resources from both the CPU and the GPU. Accordingly, this broadcasting software can thus reduce latency and transmit a high-quality stream.
However, as a software vision mixer, vMix is specialized in producing video content, streaming and recording. You will not find functions like those you have at Streamlabs here. In return, you get a comprehensive package of streaming software that you can customize in every detail – both video and audio.
And let's not forget that vMix is not free; the developer of the broadcaster software only offers a 60-day trial version.
3.4 Xsplit
Xsplit is the best known alternative broadcasting software besides Streamlabs OBS. It also works like OBS, but differs mainly in the visual structure of the user interface.
The bottom line is that you create scenes that you can customize as you like, adjust your audio and make detailed settings that optimize your streaming experience.
What makes Xsplit unique is the choice of software variants: There are broadcasters and gamecasters. The former is the described detailed variant, which works similar to OBS. Xsplit Gamecaster, on the other hand, is a lite version that particularly enables streaming beginners to go live quickly. The advantage is the easy handling, but the disadvantage is that you can't change variables or individualize your stream.
We recommend that you invest the time and get to grips with a broadcasting software. On the one hand you can offer a lot more to your viewers and on the other hand you have the possibility to personalize your stream and to adapt or change it constantly.
4 Start your stream on Twitch!
Below you will find all the instructions you need to know on how to stream on Twitch with the device of your choice.
4.1 How to stream on Twitch from your PC
How to stream on Twitch from your Windows PC
Set up your equipment (microphone, camera, lighting, etc.).

Start your broadcasting software

Start the game to be streamed.

Create the source "window recording" to feed the image from the game into the broadcasting software.

Set up your audio settings and then validate them.

Create and check your scenes (overlays).

Double-check all audio channels and the image.

Start your stream!
How to stream on Twitch from your Mac
Set up your equipment (microphone, camera, lighting, etc.).

Start your broadcasting software (for macOS, only Streamlabs OBS can be considered, since the other providers do not offer a version for Apple's operating system).

Start the game to be streamed.

Create the source "window recording" to feed the image from the game into the broadcasting software.

Set up your audio settings and then validate them.

Check your scenes

Check all audio channels and the image again.

Start your stream!
4.2 How to stream on Twitch from a console
If you want to stream, for example, from your PlayStation, you can do it directly using Sony's built-in software or you can run it on your computer. But this requires a capture card that transfers your gameplay to it, where you can enhance it using the broadcasting software before streaming it on Twitch.
And by enhance we mean overlays that make your stream look more professional and stylish in general. You can get an impression of such graphics here: https://www.own3d.tv/shop/twitch-stream-overlay-templates/ – we'll get to the topic itself later.
With this constellation, you can also integrate a webcam so that your viewers can see who is sitting behind the controller. If you choose the easy way, you can press the "Share" button while the game is open and then click "Stream game". Enter your title and off you go. Since more and more streamers are streaming on Twitch and a lot of them already exist, you should follow our recommendation to take the other, albeit more complicated, route. Compare it to starting a business: You wouldn't start half-heartedly and only do things halfway.
You should see it the same way with streaming. If you start off the right way, you will be rewarded more extensively. Be it through more viewers, a larger community or more subscribers. Because if you have the right appearance, you will also get more traffic; this is also a parallel to a company.
What applies to the PS, works also with the Xbox. Microsoft's console also has integrated software that can stream your gameplay directly. Below you will find a step-by-step guide on how to stream to the respective game consoles.
How to stream on Twitch from your Ps (with Capture Card)
Start up your PlayStation and PC.

Connect both through the Capture Card.

Set up the remaining equipment (microphone, camera, lighting, etc.)

Open your streaming software.

Create the source "media source" in it to feed the PS image into the broadcasting software.

Open the studio mode in your broadcasting software.

Create and check your scenes (overlays).

Check all audio channels (party, game sound, music etc.)

Start your game on the PS.

Check the image of your upcoming stream.

Start your stream!
How to stream on Twitch from your PS (without Capture Card)
Start up your PlayStation and PC.

Set your PlayStation as your primary PS4 in the account settings.

Then open "Set features available in sleep mode" on the PS4 under Power Save Settings

Here, the options "Stay connected to the Internet" and "Turn on the PS4 from the network" must be enabled.

Then open the menu item "Remote Play Connection Settings" and check the box "Enable Remote Play"

Then download and open the PS4 Remote Play software on your PC.

After opening the software you can directly apply settings such as resolution (the best resolution is only supported by new PS4, e.g. PS4 Pro)

To stream in good quality, a fast internet connection with a minimum upload speed of 12mb/s is recommended.

After the settings in the PS4 Remote Play software have been made, click "Start".

If everything works, you will receive a notification on your PS4 that a connection has been established via remote play

To stream the image from the PS4, simply add another source in your streaming software (window capture)

You can already check picture and sound in the software – if they are the way you like them, you are ready for your stream, if not, you only have to adjust the resolution and frame rate settings in the PS4 Remote Play software
How to stream on Twitch from your Xbox
Start your Xbox and your PC.

Connect both via the capture card.

Set up the remaining equipment (microphone, camera, lighting etc.).

Open your streaming software.

Create the source "media source" in it to feed the Xbox image into the broadcasting software.

Open the Studio mode in your broadcasting software.

Create and check your scenes (overlays).

Check all audio channels (party, game sound, music etc.)

Start your game on the Xbox.

Check the image of your upcoming stream.

Start your stream!
How to stream on Twitch from your Nintendo Switch
Start your Nintendo Switch and your PC.

Connect both via the capture card.

Set up the remaining equipment (microphone, camera, lighting etc.).

Open your streaming software.

Create the source "media source" in it to feed the Nintendo Switch image into the broadcasting software.

Open the Studio mode in your broadcasting software.

Create and check your scenes (overlays).

Check all audio channels (party, game sound, music etc.)

Start your game on the Nintendo Switch.

Check the image of your upcoming stream.

Start your stream!
4.3 How to stream on Twitch with a smartphone/tablet
Besides PC and console, you can also stream games on Twitch that you are playing on your smartphone or tablet. You can find out how to do this below.
Put your smartphone/tablet next to you.

Start your PC.

Connect both with an appropriate app, like AirDroid or TeamViewer

Set up the equipment connected to your PC (microphone, camera, lighting, etc.).

Open your streaming software.

Create the source 'window recording' to feed the image from AirDroid/TeamViewer into the broadcasting software.

Open the Studio mode in your broadcasting software.

Create and check your scenes (overlays).

Check all audio channels (party, game sound, music etc.)

Start your game on your smartphone/tablet.

Check the image of your upcoming stream.

Start your stream!
5 How to stream on Twitch - Helpful tips
5.1 Create a strategy
Almost as important as a computer or console to play is the strategy of a budding streamer. The strategy more or less serves as a guideline and makes sure that you don't lose your motivation, even if things don't go so well, especially in the beginning.
Set yourself several milestones and find out how you can achieve them. The best example: become a Twitch Affiliate. To achieve this, you need your first 50 followers, must have streamed 500 minutes on at least 7 individual days in the last 30 days and have an average of three viewers. In general this is not a big challenge, if you take your job as a streamer seriously.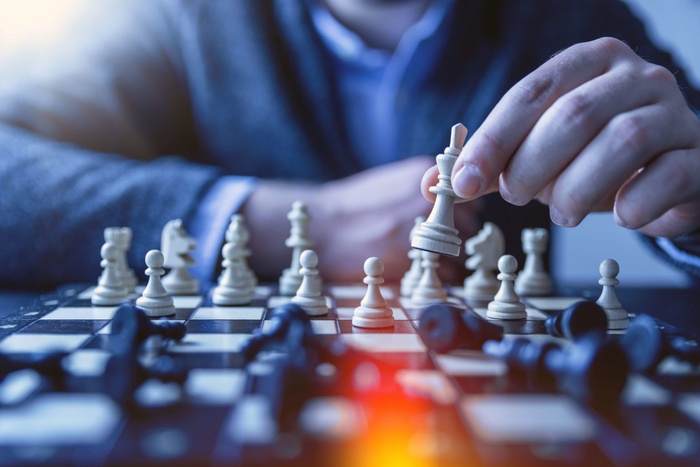 The strategy planning also includes your content. You have to think about what you want to stream. Do not choose too many games. If the selection is too big, it will attract different followers, who have different interests among themselves. This prevents a uniform community, which should be your goal.
In addition, topics that you have prepared to keep the conversation going in the chat are important. But also "hiring" mods, which donation goals you have, who you want to play with, how you are going to react to trolls and all those other little things should be planned in advance. If you are prepared, nothing can go wrong!
5.2 Plan your streaming hours
Planning your schedule is also an important part of your strategy, but we list it separately because it can make a huge difference between success and failure. Sounds funny, but it's true.
The message behind is simple: If you plan your streaming hours, your viewers can plan their visit on your stream. It is of no use to your followers if you always start streaming spontaneously whenever you feel like it. By the third time at the latest, when one of your followers misses your stream because he repeatedly does not have time for it, he will be gone for good – no matter how cool he thinks you are.
So in this case, don't compromise and create a schedule that is adapted to your everyday life. For example, you can stream every weekday after work and on Saturdays from 10am. Whatever your plan is, it only makes sense as long as you announce it. You can do this both in the Twitch panels and on social media. This is where your followers are most likely to notice it.
A little tip from us: Twitch provides a so-called Schedule-Tab, in which your streaming times can be published as well.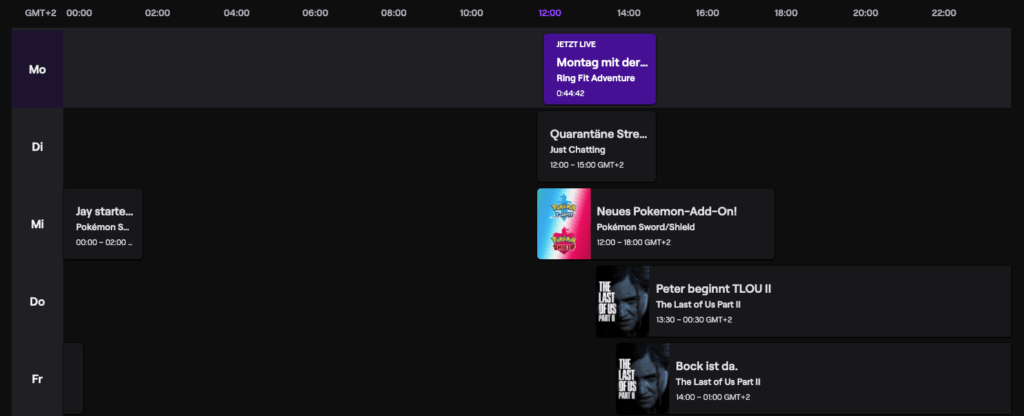 5.3 Find your USP
The USP is one of the most important ways to stand out from the crowd. USP stands for Unique Selling Proposition. To define it for you, you can come up with a lot of ideas; there are no limits to your creativity.
On the one hand, this can be an optical change on you, be it a disguise. Wig, decoration or the like. Or unique events related to the games you play, such as a tournament with your friends in Apex or Valorant – these are always well-received on Twitch.
You can also differentiate your gaming content with small cooking shows or other hobbies. Whatever you come up with as your USP, keep in mind that it should more or less harmonize with your other content.
A comprehensive guide to creating a USP can be found here:
https://www.own3d.tv/standing-out-from-crowd-creating-unique-selling-propositions/
5.4 Be authentic
The key to success on Twitch. All the visual refinement, the USP or good skills in the game won't help if the viewers don't like you or the way you interact with them. From our experience we can give you good advice on this topic: be yourself! This is where the wisdom "everyone gets the viewers they deserve" comes into play repeatedly, because no matter what you are, there will always be enough people who like the way you are.
5.5 Interact with your viewers
We here at OWN3D have often noticed that many new streamers underestimate the communication with their viewers.
It's obvious that you need to set rules and follow them consistently, otherwise your chat culture will quickly slip out of your hands. If this is your foundation, you can build a wonderful conversation with your viewers and followers on it.
This also includes constantly greeting new viewers when they join the chat. When reading the names out loud, you should not react too hectically, as there are often viewers who use so-called "bait names". These are names that are better not announced live in the chat or at least only in a modified form. In addition, you should also make sure to keep the chat alive by repeatedly posting topics. Also, anecdotes or stories from your life are always welcome. This is especially important in the beginning, when there are still only a few viewers.
Later, the chat will become more independent, this is where the mods come into play, but most of all it depends on your further communication with the chat. Of course, you won't be able to react to every message, but no reaction is not an option. This makes you seem detached and distant. Even someone like Shroud is constantly trying to talk to his chat.
In addition, Twitch offers many elements that contribute to the interaction with your viewers. Like for example polls in the chat or emotes.
5.6 Use overlays
In addition to authenticity and fast paced gameplay, you can't afford to neglect the visual enhancements of your stream. Overlays have become a necessity to look professional on the purple streaming platform.
To find the right one for you, we have a large selection of high-quality overlays. With our bundles, we cover the entire range of overlays you need for a stream – including animated transitions.
From start- and chat- to gameplay overlays, everything is included. Just take a look around in our Online-Shop and pick the one that fits you best or catches your eye.
5.7 Add alerts to your stream
Alerts are like overlays: they are helpful and spice up your stream.
Alerts are designed to highlight when someone follows you or leaves a subscription in the stream. This encourages other viewers to do the same and increases the entertainment value.
Alerts are also graphical elements that you can easily integrate through OBS and the likes. Add sound effects to them, and you'll have twice the fun. Of course, we also provide you with the right alerts: https://www.own3d.tv/shop/animated-twitch-alerts-stream-notifications/
Small hint:
Should you have any problems with the implementation of overlays, alerts or the like, that you have from our shop, we are happy to help you until it works.
5.8 Use some twitch extensions
There are a lot of extensions for Twitch, which you should make use of if they fit your streaming content. To get an overview of the Twitch extensions, go to the "Channel and Videos" tab in the Twitch settings and then to "Extensions".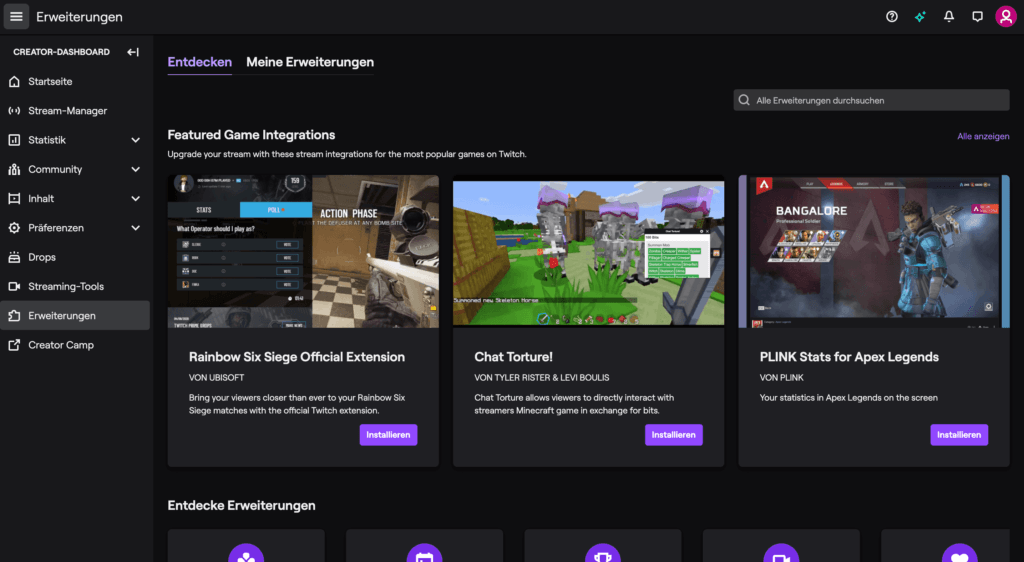 Here you will find those that are game based; serve to promote your community; are designed for interaction with your viewers; and many more. Browse through and see what you can use. Ultimately, enhancements increase the personality of your Twitch stream.
Of course, we also offer some useful extensions in our online store, so be sure to check them out. You can find them here: Twitch-Extensions
5.9 Play some music while streaming
Music can brighten up the acoustic background, similar to what you see in movies. However, there are a few things to consider here: no hateful, racist or similarly oriented music, and only music that is not licensed.
Twitch uses algorithms to check the streams and bans quicker than it's shadow if it detects streams that contain music that violates copyright laws.
So if you don't want to compromise the structure of your Twitch career, only use music that is allowed on the platform and for which you have permission. We from OWN3D offer a free music channel with over hundreds songs you can use. Check out OWN3D Music.
6 How to stream to Twitch and other platforms simultaneously
Particularly as a streaming beginner, it can be helpful to be present on several platforms simultaneously. This way you can increase your range and the number of your followers. This sounds logical at first, but it is hardly possible to realize it with Twitch, because there is a clause in the terms and conditions that prohibits simultaneous streaming on Twitch and other platforms as soon as you are an affiliate or partner of Twitch.
Due to the fact that the affiliate status is achieved relatively quickly and easily, you may at best forget about it right away, as it brings more effort than benefit. Should you still want to try streaming on multiple platforms at the beginning, there is special multistream software available to help you put your plan into action. The best known is the free software restream.io.
7 How to stream with others simultaneously (Squad stream)
A special form of streaming on Twitch is the so-called Squad Streaming. Here, you have the possibility to add up to three people to your stream. This means that your viewers will see four different streams in one window. This method of streaming is interesting especially for battle matches by merging the screens of your team members into one stream. This way you can offer your viewers different perspectives and take your stream to the next level.
Info
Squad streams are currently only available to Twitch partners. In the future, however, an integration of streamers with an affiliate status is planned.
7.1 Starting a Squad Stream
Below is a step-by-step guide to create a Squad Stream on Twitch:
Click on the "Squad Stream" widget in your dashboard

Click on "Add a channel" and enter the name of your friends you want to add.

Click "Start Squad Stream" once your friends have accepted the invitation.
8 FAQ – How to stream on Twitch
Everybody has different questions about streaming on Twitch at the beginning and over time. But some questions are the same for everyone. We have compiled the most frequent questions into an FAQ.
How do I save the stream on Twitch?
Under the tab "Channel and Video" (where you also found the stream key) you will find the option "Save previous broadcasts". This is enabled by default, which means that all your streams are automatically saved and available to you for 14 days – for Twitch partners and Prime members even 60 days. You will find access to the videos in the left menu under "Content".
Why is my Twitch stream lagging?
This can have different causes. Most likely, the stream quality setting is set too high. To find the ideal settings for your CPU and GPU, you need to experiment a bit. You can do this by selecting different profiles from the Streamlabs OBS settings in the "Output" section under "Preferences".
Also, often there are multiple devices using the Internet at the same time, which can cause a delay in the frames that are sent out. And then there's the difference between x264 and the GPU: While the former is pure CPU encoding, the GPU does the rest. You may lose quality, but the rendering will be smoother and so will the stream itself be. Keep in mind that the CPU is already busy with your game, the broadcasting software and other things. Some chips don't take part in this, if you want to encode with them.
But before you go looking for the error that a spectator is pointing out, ask if that error is also present for the others. Often it is also due to the connection and the device of a single viewer and there is nothing wrong with your stream.
Why should i stream on Twitch?
In the end, the most important thing is which platform you feel most comfortable to stream on. But if you look at it soberly, Twitch is way ahead of other providers such as YouTube or Facebook in terms of streaming.
Our recommendation tends towards Twitch, because there you can best develop yourself individually and get the most support to build a community.
A combination of Twitch and YouTube is still helpful: You can use one to stream, the other to present highlights or other cut videos.
Which game should I stream on Twitch?
Again, there is no universal answer. You will find the right game by playing what suits you and is fun for you. The ideal middle ground is a mixture of popular games and indie titles or those you just like.
There's no point in struggling through AAA games just to grab a piece of the big audience for the title. More important is your personality, the game is secondary.
Who can stream on Twitch?
Practically anyone over the age of 18 can stream on Twitch. But theoretically it is also possible for boys and girls who are 13 or older. In this case, a parent or guardian must agree to the terms of use of Twitch.
This regulation refers to the use of all services of Twitch, including the simple watching of a stream.
At what time do I best stream on Twitch?
If you believe the proverb "Everyone gets the audience he deserves", the answer is up to you and not the other way around. Stream at the times that suit you best. At any given time, millions of viewers are on Twitch, so even those who are online at roughly the same times will find your stream.
This is because viewers often have a fixed rhythm to use the purple streaming platform, as do many streamers who start their hobby on Twitch. So they also orientate themselves by the fact that they come from work, watch streams during dinner or at night. In the end, the proverb will prove to be right: You get the viewers who are online at the same time you're streaming.
But if you are on holiday, vacation or for any other reason, focus on streaming, direct your stream to the evening hours from 5pm. According to Twitch statistics, most viewers are online at that time. This peak runs until 0 o'clock on average.
Can I stream on Twitch and YouTube at the same time?
Yes you can, BUT only as long as you are not an affiliate or partner of Twitch. Since the former status is achieved relatively quickly and easily, the answer can also be "no".
According to the affiliate program agreements (you can find them here: https://www.twitch.tv/p/de-de/legal/affiliate-agreement/) Twitch requires an exclusive right to your stream. The condition is that you are only allowed to stream on Twitch at the same time and that you have to keep a cool-down of 24 hours before you can use the VODs for other purposes or upload them as video on other platforms.